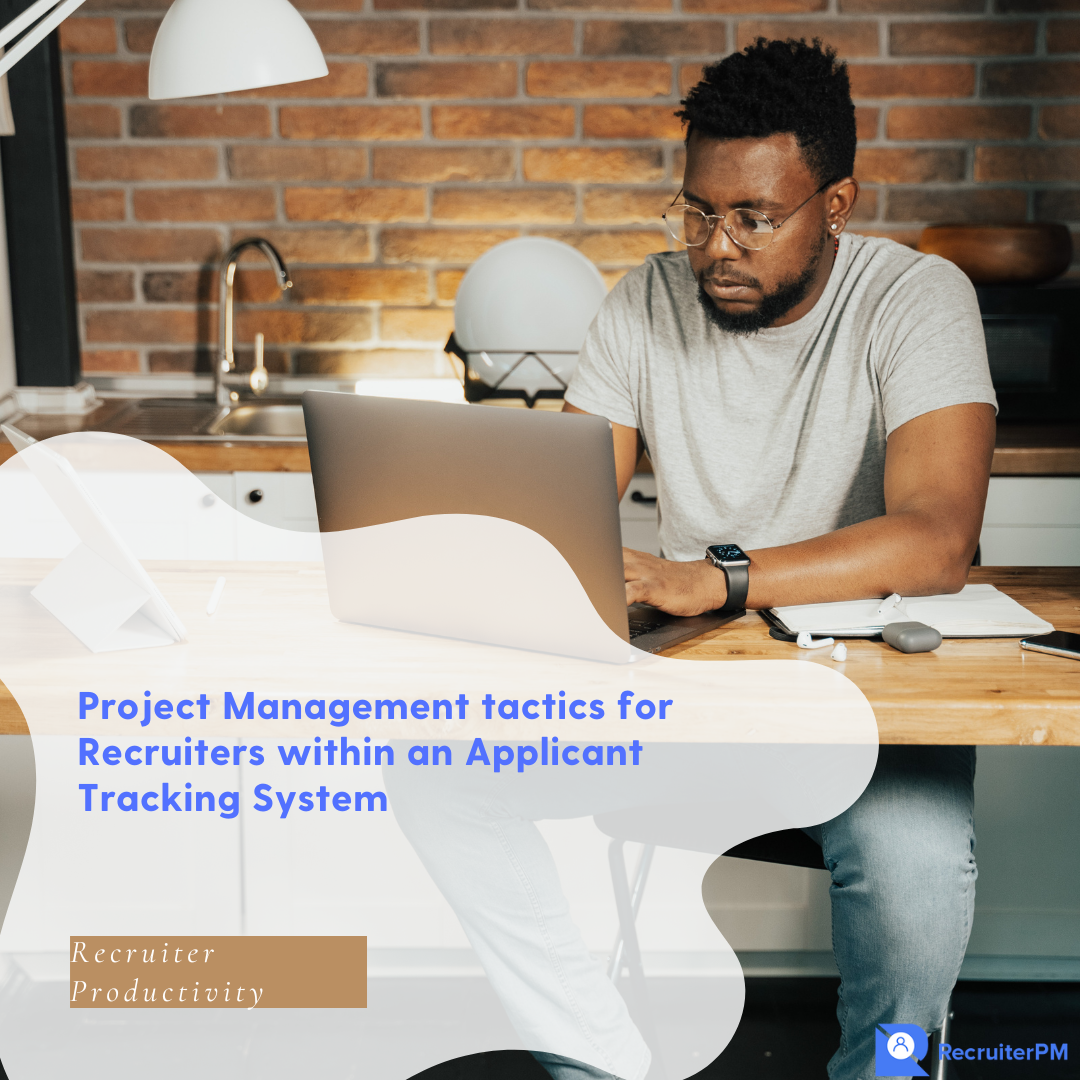 Recruiting departments and agencies expect recruiters & talent acquisition professionals to handle at least 6-8+ open roles and sometimes upwards of 20-30+ openings at a time depending on the industry and type of recruiting role.
In reality, for a recruiter to keep up at that pace is quite complex. Each open role should have 20-200+ candidates to target, contact, and then at least scheduling & interviewing 10-20+ candidates from there, etc. Multiply that process by how many open roles, and now you can see why most recruiters can easily feel lost or overwhelmed.
There are a few tactics to help recruiters stay on top of their open roles and not feel as overwhelmed.
Here are 5 project management tactics that will help recruiters optimize and create efficiency…
Recruiting Project Management: Prioritization
Always prioritize open roles on a daily and weekly basis based on where you are at in the sourcing process and interview process.
The hiring manager and the recruiter should be in contact with feedback and top candidates on an ongoing basis.
This allows recruiters to make sure they are on top of the roles that the hiring managers deem a priority and allocate time-based on constant communication with internal and external teams and the expectations of hiring managers.
Dedicated Time To Plan & Research
Make sure recruiters are able to dedicate 1-2 hours daily to sourcing and research to line up the week with individuals to connect with for the open role.
If you want to focus on one role, make sure you get into every candidate source you have available (Linkedin Recruiter, Indeed, Careerbuilder, etc.) so you can go into the next role's research process confident you covered all your bases before moving on.
If you want to cover multiple roles, focus on 1 recruiting source and try to get as many candidates as you can out of that source for multiple roles before moving on to the next job board/social networking site.
An Applicant Tracking System made for Project Management
Make sure you're using an Applicant tracking system that combines CRM, AI, and Performance Management. Most recruiting firms are using antiquated Applicant tracking systems, excel or new applicant tracking software, yet many need to have many marketplace apps and additional add-ons in order to manage open positions efficiently and see how effective you or your team is.
RecruiterPM is an Applicant Tracking System built for that purpose. To not only use artificial intelligence but also project management, analytics and KPI tracking, so every recruiter is optimized and aware as well of priorities.
The ability to stay in one system and do everything you can is important because recruiters already have enough screens and windows and tabs open.
This is why a strong Applicant Tracking system should have an embedded Calendar Scheduling tool, Artificial Intelligence to find candidates that fit the job description or are similar to ideal profiles, 3rd Party Job Board access to search resumes inside the ATS ( CareerBuilder, Monster, Dice, Indeed and others), Email, SMS campaigns, Metrics Management with Leadership boards & Contests/Gamification.
If your ATS does not have all the above, RecruiterPM is something you should demo. RecruiterPM is Project Management software merged with Applicant Tracking System & CRM functionality to allow a perfectly well-designed user experience for recruiting teams.

Communicating and Knowledge Sharing
Communication and Knowledge Sharing inside a recruiting office are crucial for hiring to be successful. Knowledge sharing, especially when it comes to Boolean strings, company target lists, and other recruiter research is important to collaborate on and share among co-workers and that is where we feel, many applicant tracking systems are falling short as well.
To allow others to use each other's research, Boolean strings, etc. allow for faster research for all future searches.
For Example, if one recruiter created an amazing Boolean string of all competitor companies to source candidates from, how quick would it be to source talent if that Boolean or recruiting search string was saved in a research repository and easily searchable for others when they are on a new open job.
Sharing research among recruiters is also a great way for junior recruiters to jump into the game of research and source candidates faster.

Calendar Efficiency Management
Many Recruiters do not think about project management, but once you do, it starts you on a roller coaster of performance maximization in the art of talent acquisition. The next thing we believe is uber important is for a Manager, or Recruiter to optimize their calendar as well. Using an automatic scheduler like our built-in Scheduler, allows candidates and others to schedule on your calendar which eliminates the back and forth via email and text that drive most nuts when scheduling interviews. This can eliminate countless hours of administrative work each week!
Booking time for breaks, walks, meals, family, personal life, and social life, all important. Remember maximizing your calendar means using your calendar. The more you maintain a schedule for what is important to you, your personal and professional goals will unfold and become attainable.
Many who live by their google calendar or whatever, truly live more efficient lives. Remember, sometimes, you don't do something and that is ok, but at least being conscious of your to-do list will bring you much success in the overall outcome of goal setting and efficiency.
—
No matter the way you do it, finding effective efficiencies you can create for your talent acquisition team or recruiting agency is crucial for its continued success. As a leader, focus on Process, Software, and People and within that realm, make sure each of those three layers connects together seamlessly utilizing principles of management that create smooth workflows and happy recruiters.
Many do not realize that poor processes and a lack of technology can create an environment where hiring becomes almost impossible. This is why, when you invest in a recruiting team, you should invest in ways to bring project management to the forefront and the technology to do so. Your team will respect a Manager who has thought about ways to optimize their ability to perform.
Welcome to 2023, where every single recruiting resource is more expensive than ever before – it is crucial to be more strategic and it begins with Recruiting Project Management.