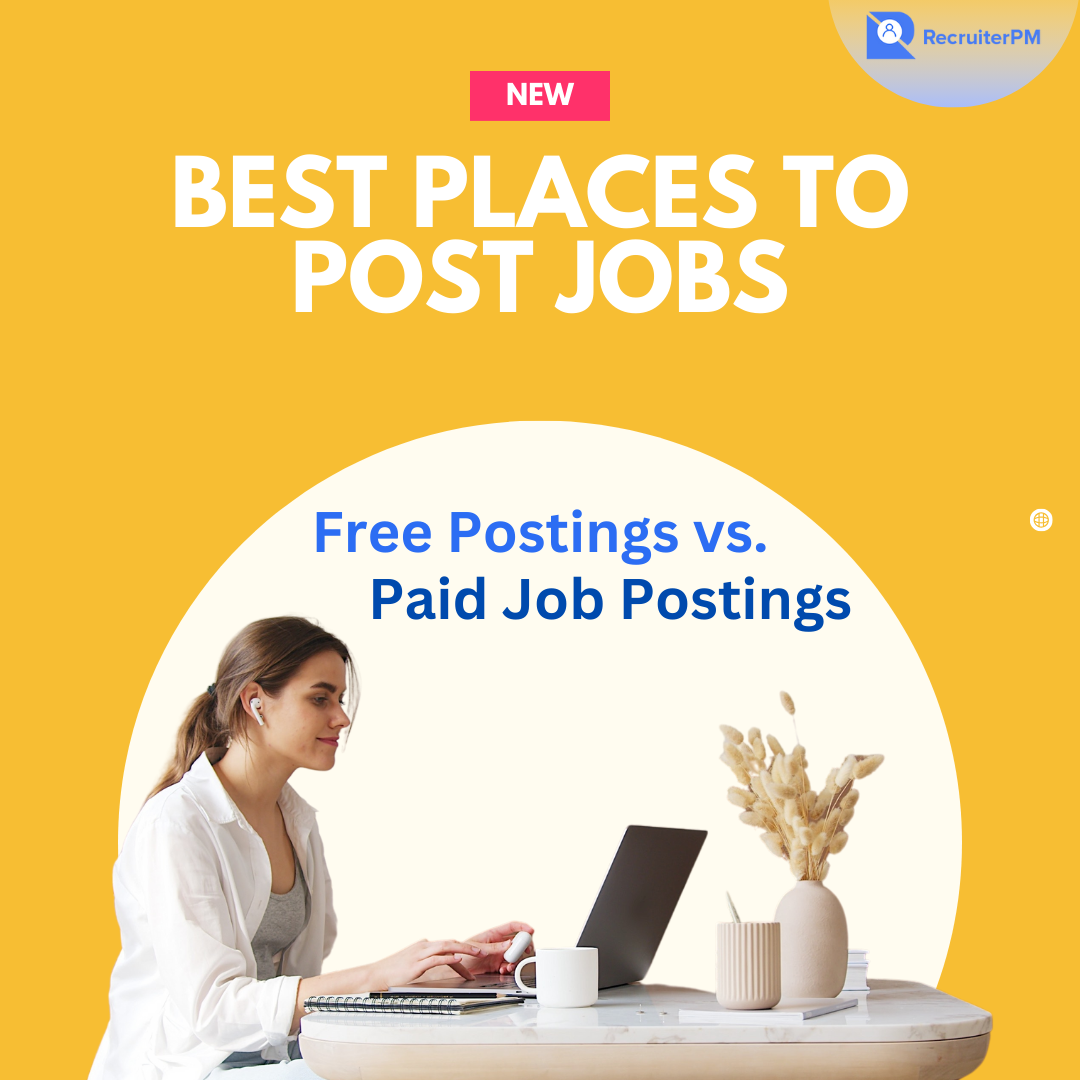 Free (organic) Job Postings vs. Paid Job Postings: The Ultimate Guide with RecruiterPM
Recruiting and how we advertise our jobs as Recruiters and HR professionals is constantly evolving. With a myriad of job platforms available, recruiters are often faced with a dilemma: where is it best to post jobs for the greatest visibility? Do Free job boards work or if it's best to pay to post jobs? While free job postings provide an affordable option, they often come with the caveat of a lot less volume. On the other hand, paid platforms promise broader reach and can bring in a significant flow of potential candidates.
Let's explore the balance.
Indeed – A stalwart in the job-hunting scene, Indeed offers both free organic jobs to be posted for Organizations and premium job postings. While the free option provides substantial organic reach if you are using an ATS like RecruiterPM, premium postings can significantly enhance visibility and application numbers and drive in the best performance as the #1 job site in the world.
ZipRecruiter – ZipRecruiter blends the best of both worlds. Its intuitive platform allows your job posting to be driven across their network and targets the strongest talent and allows your posting to be in front of them.
LinkedIn – Primarily known as a social networking hub, LinkedIn does offer basic job postings that are free to those that use an Applicant Tracking platform. While you can post organically, tapping into their premium posting options can target passive candidates more effectively, given its expansive professional user base. This paid option can bring hiring managers an amazing funnel of candidates in a timely manner.
Monster – Monster, a renowned name, offers both free organic in ATS platforms and premium postings. While organic listings gain decent visibility, opting for their premium services can significantly expand your reach across diverse sectors.
CareerBuilder & Talroo – Both platforms are premium posting job boards but promise an amplified reach in return. Their vast databases and targeted tools ensure your listings resonate with the right candidates. Talroo has become the epicenter of hiring for many in the blue collar and industrial sectors in addition to hourly roles within Retail and other similar sectors, using their major platform Jobs2Careers.com.
Nexxt – Offering specialized campaigns across their network of niche job board sites. Nexxt provides a more curated approach, while it's a paid service, the return on investment in terms of quality applicants is noteworthy and they are able to post your job across Diversity websites and other specialties across industries like Healthcare, Retail, Sales, etc.
Programmatic Advertising: Appcast, Equest & Pandologic –  Stepping beyond traditional job portals, these vendors tap into the potential of programmatic advertising. While it's a paid avenue, it dynamically targets and retargets potential candidates across the web, ensuring higher visibility across many job boards.
Now, where does Recruiterpm.com fit into this landscape? It's simple. While many Applicant tracking platforms provide organic and sponsored postings, Recruiterpm.com takes it a notch higher. Offering organic, sponsored and programmatic postings. Using organic postings across platforms like Google, Indeed, Lensa, Adzuna, CareerJet, ResumeLibrary, Talent.com, Jooble, and more, it ensures a wide-reaching organic base. However, what truly sets RecruiterPM apart is the option to boost these postings with ad spend. This sponsored approach, available on multiple platforms, including Indeed, Monster and ZipRecruiter, and thousands of other job posting sites we are partnered with, ensures that your job gets the visibility it deserves.
In essence, while free organic postings offer a budget-friendly approach, they typically generate a lower volume of applications. This is where the dual approach of Recruiterpm.com, or any ATS platform blending organic with sponsored, shines. It ensures not only brand-specific targeting but also increased visibility, especially in a saturated job market.
In the vast world of job postings, striking the right balance between free and paid is crucial. While organic postings are wallet-friendly, to truly amplify your reach and get a higher volume of quality applications, considering sponsored options is wise. With platforms like Recruiterpm.com streamlining this process, recruiters are now better equipped than ever to find the perfect candidate. Dive in, explore, and leverage the best of both worlds.